Newton, Isaac (1642-1727)
English natural philosopher. His Works include: Mathematical Principles of Natural Philosophy, 1687. Opticks, 1704. His importance lay in the areas of: Gravity, mathematics, optics, astronomy, motion, as well as the grand synthesis completing new view of the world.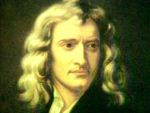 Newton's work can be considered as the culmination of the scientific revolution. The cosmological synthesis draws together the work of Copernicus, Kepler, Galileo and Descartes to finalise a new view of the universe, heliocentric, constructed out of mathematically treatable particles, governed by the laws of mathematical physics, working in the fashion of clockwork. While this view of the world needs to be extended beyond physics and astronomy (which was effectively the task which the Enlightenment sets itself) the fundamentals of this view of the world fall into place with the work of Newton. The methodological synthesis is equally important, as it sets the guidelines as to how science will be done, and is of course closely related to the new view of the universe. Again Newton draws on various sources; Galileo, Bacon and Descartes, to name a few.
The new method seeks a balance between mathematical theorising and controlled experiment, and pays no attention to ancient 'authority'. The success of Newton is also important; it shows that science can indeed make great strides forward and heralds the great era of eighteenth century optimism known as the Enlightenment
He was educated at Trinity College, Cambridge in 1661 and graduated 1664. In 1665, Newton returned to Lincolnshire due to plague. In 1667, appointed Lucasian Professor at the University of Cambridge. In 1689 is made Member of Parliament for the University and then in 1696 in made Warden of the Royal Mint. This was followed in 1703 by the Presidency of the Royal Society. He was knighted in 1705
Contributed by: Richard P Whaite
Related Topics:
To return to the previous topic, click on your browser's 'Back' button.