Bohr, Niels (1885-1962)
Danish physicist. He is one of the most influential scientists of the twentieth century. He was the founder of atomic quantum theory and the Copenhagen interpretation of quantum physics.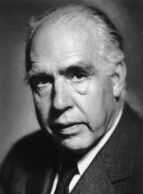 His theory denied the possibility of a unified, observer-independent field. His own interpretation, the heart of his Copenhagen philosophy, implies that quantum phenomena can only be described by pairs of complimentary perspectives. Though it is impossible to apply either perspective to the phenomena simultaneously, both are required for the exhaustive description of the event. Bohr desired that his methodology be applied to other spheres of knowledge - put simply, he believed that new epistemological insights are obtained by adjoining seemingly incompatible viewpoints. The Copenhagen interpretation was later developed in the work of the German physicist, Werner Heisenberg. Their relationship and the related strands of their thought has been dramatised by the playwright Michael Frayn in his Copenhagen.
Related Topics:
Contributed by: Richard P Whaite
To return to the previous topic, click on your browser's 'Back' button.