Nucleus
A cellular organelle of eukaryotes, enclosed in a definite membrane that is essential to cell functions. Its center is called a nucleolus, which contains the DNA (chromosomes) along with proteins that aid its replication and translation into RNA.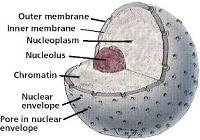 Related Topics:
Images: Sinauer Associates
Contributed by: BU
To return to the previous topic, click on your browser's 'Back' button.