Mitotic Spindle
A network of microtubules formed during prophase. Some microtubules attach to the centromeres (center) of the chromosomes and help draw the chromosomes apart during anaphase.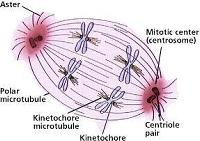 Related Topics:
Images: Sinauer Associates
By permission. From Online Biology Book Glossary property of Prof. Michael Farabee
To return to the previous topic, click on your browser's 'Back' button.