Image: A Classification of Major Animal Phyla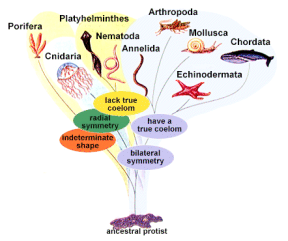 A simple classification scheme for the major phyla of animals. Some of the key innovations that occurred during animal evolution are indicated in the ovals. Note that the invertebrate lineage most closely related to Chordates are the starfish and sea urchins (Phylum Echinodermata). From Audesirk/Audesirk, BIOLOGY: Life On Earth, 5/e, © 1999. Electronically reproduced by permission of Pearson Education, Inc., Upper Saddle River, New Jersey. Figure 22-1.
To return to the previous topic, click on your browser's 'Back' button.