Image: Homologous Stuctures in Tetrapod Limbs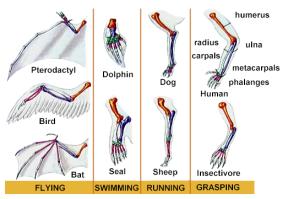 Homologous structures in the tetrapod limb, modified for various functions. Notice that the various bones, which are tinted different colors, have been modified in different ways to accomplish each type of locomotion (e.g., compare the modifications of the bones for flight). From Audesirk/Audesirk, BIOLOGY: Life On Earth, 5/e, © 1999. Electronically reproduced by permission of Pearson Education, Inc., Upper Saddle River, New Jersey. Figure 14-8.
To return to the previous topic, click on your browser's 'Back' button.