Image: Five Kingdoms of Life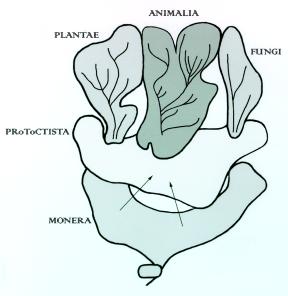 This view represents Earthly life as composed of 5 kingdoms, 4 of which are <!g>eukaryotic, and the 5th, the monera (what we now call <!g>prokaryotes) at the base of the tree. This view of life is based on structural and functional analyses of organisms, and a proposed evolutionary line in which life moved from simple to more complex, and smaller to larger.
To return to the previous topic, click on your browser's 'Back' button.