Einstein, Albert (1879-1955)
German-born naturalised Swiss and American physicist. He is arguably the twentieth century's most famous scientific figure. His output included the theories of special relativity (1905) and general relativity (1915), which revolutionised the classical mechanical understanding of space, time and gravitation.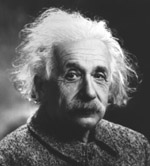 He made fundamental contributions to the fields of statistical mechanics and quantum theory. Later in his life, following his emigration to the United States and appointment at Princeton University in New Jersey, he searched for a unified theory of gravitation and electromagnetism. He complained that the new quantum theory was fundamentally incomplete without this unification. It remains one of the physical sciences greatest unsolved puzzles.
Related Topics:
Contributed by: Richard P Whaite
To return to the previous topic, click on your browser's 'Back' button.