Image: Mars Sample Return Concept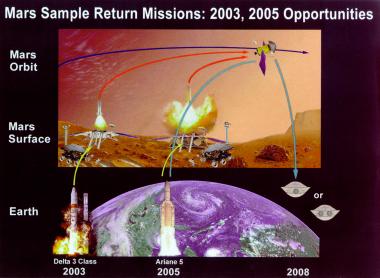 As currently planned, the Mars Sample return mission will consist of two launches, one in 2003 with a lander and rover, and a second one in 2005, with a similar lander, rover, and orbiter (Earth Return Vehicle). After landing on the Mars surface, the rover will collect samples (consisting of cores of both rocks and soil), and return these samples to a small cache in a rocket on the lander. These samples will be placed in a small sphere (orbiting cylinder or OS), and put into Mars Orbit, so that after the 2005 mission, there will be two small 'satellites" orbiting Mars. The Earth Return Vehicle will enter Mars orbit, retrieve the samples, and return them to Earth for analysis.
To return to the previous topic, click on your browser's 'Back' button.